| | |
| --- | --- |
| | The Words of Sun Myung Moon from 2008 |
Unification Church founder Moon hurt in crash
July 19, 2008
Hyung-Jin Kim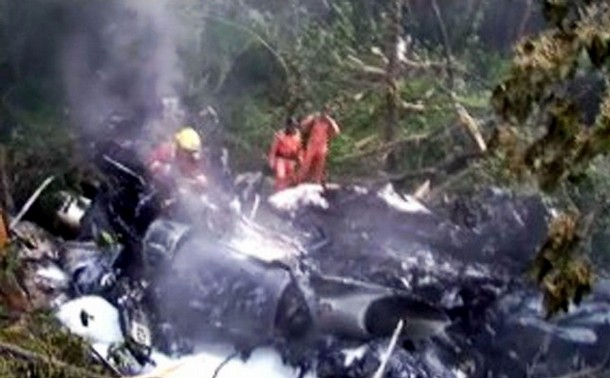 SEOUL, South Korea (AP) -- A helicopter carrying the Rev. Sun Myung Moon crashed Saturday into a mountain in South Korea, injuring the founder of the Unification Church and 13 others, officials said.
Moon was slightly injured, a hospital official said. Members of Moon's family, including his wife, were also hurt, and one person suffered a serious back injury, fire official Kim Wu-jong said.
The helicopter was carrying 16 people when it crashed and burst into flames, Kim said.
Moon and the others were treated at the nearby church-affiliated Chungshim Hospital in GaPyung, about 37 miles northeast of Seoul, hospital official Park Sung-kwon said.
Moon received an X-ray and his condition was not serious, Park said.
No details of his injury were given, but the church said in a brief statement on its Web site that Moon and the others were "safe."
Police and fire officials said the cause of the crash was under investigation.
Church official Kim Dae-yeol said the helicopter was flying to Chungshim Hospital from southern Seoul. The GaPyung area has several church-affiliated facilities including a museum and schools.
Moon founded the Seoul-based Unification Church in the 1950s and the conservative Washington Times newspaper in 1982. His church owns hundreds of companies around the world.
The church's doctrine is a mixture of Christian, Confucian and traditional Korean values, and Moon's followers believe he came into the world to complete the work of Jesus Christ.
In 2004, Moon was the center of a coronation ceremony in Washington at which he declared himself the Messiah. He also became widely known for performing mass weddings of followers.