| | |
| --- | --- |
| | The Words of Sun Myung Moon from 2008 |
Helicopter carrying Rev Moon may have hit object before crash
News Desk
The Korea Herald
Publication Date: 21-07-2008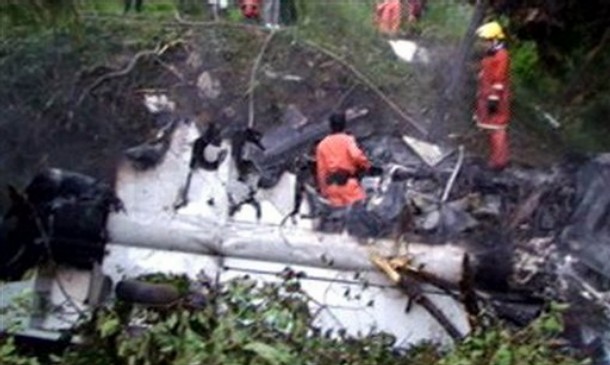 A helicopter that slammed into a mountain northeast of Seoul Saturday with Unification Church founder Moon Sun-myung on board is believed to have hit an object amid low visibility before it crashed, investigators were quoted as saying by Yonhap News Agency.
Rev. Moon and 15 others suffered injuries when the helicopter went down while attempting an emergency landing near a hospital linked to his religious sect, which is believed to have 3 million followers around the world.
Moon, 88, remains in stable condition, according to his church. A group of South Korean investigators has been dispatched to the site of the accident in GaPyung, about 70 kilometers northeast of Seoul, to look into the cause of the crash.
"So far, we suspect the helicopter hit something like trees while it was flying close to the ground because the trees there appear to be damaged," Chief investigator Byeon Soon-cheol said by phone. "But the result of the probe depends on the analysis of the black box."
Quoting pilots' testimonies, Byeon said no technical failure was detected before the crash that led to an explosion immediately after its passengers, including Moon's wife and three of his grandchildren, were evacuated.
"We are taking their testimonies into consideration, but we can't rely on them completely" because if they mishandled the US made Sikorsky S-92 they might try to cover it up, Byeon said.
Another official at the Ministry of Land, Transport and Maritime Affairs said it is crucial to determine whether the engine failed.
"We plan to see whether the engine had failed before the crash," the official said, declining to give his name because he was not in a position to speak to the media.
Moon is one of the world's most controversial religious figures. His business interests range from heavy machinery to media.
The helicopter that crashed, the same model used by the South Korean president, had taken off from Seoul before the incident, according to officials.