| | |
| --- | --- |
| | The Words of Sun Myung Moon from 2011 |
Cheon Jeong Ho yacht
Sun Myung Moon
February 17, 2011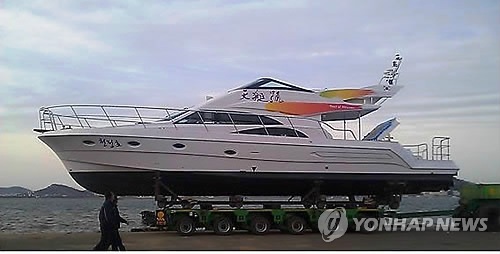 As you know, there will be a launching ceremony of the Cheon Jeong Ho at Yeosu on Feb. 17. The following information is from the web page of (Unificationism). Rev. Kambashi
The Cheon Jeong Ho is the first domestic leisure boat to be 15 m long. It is 4.4m wide, 2.19m deep, and weighs 19 tons. It runs at a maximum speed of 42 knots.
The boat has enough facilities for two families to be able to stay in it for more than seven days.
According to Master Marine (Ltd), they applied for a patent for their new technology that gives the boat twice the intensity, half the weight, and its boat building period will be reduced by 30%. They said it is Rev. Moon, who has been dedicating himself for developing shipbuilding technology from 1960's, that invented the resin molding for building the boat. According to the company, 6,000 people such as local, national, and international leaders in various fields will participate in the ceremony. (Katsumi: Father called the Bun Bong Wang and National Messiahs for a 3-day workshop at Yeosu prior to the ceremony and they will all participate in it as well).
This boat and its technology will give a big hope and potential to the shipbuilding industry in Korea.