| | |
| --- | --- |
| | The Words of the Ben-Zvi Family |
Young Leaders Learn Peacemaking in Israel and Palestine
Adrial Trombin and Hod Ben Zvi
July 1, 2008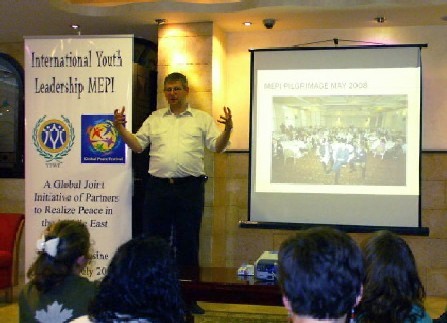 From June 22 to July 1, 24 international participants took part in an International Youth Leadership project in Israel and Palestine, joined at various times by local participants.
The project was directed by Adriel Trombin from Lulxembourg, with the support of Joshua Lorenzana (Philippines), Keiko Ikeda (Japan), Natalie Nylen (Sweden), and Chigozie Ahunanya (Malta), who came early to help with preparations. Keiko contacted Jewish students, inviting them to participate in the project; she reported one of the challenges being that, "most of them have never been to a Palestine area and are afraid to go."
Over the course of the project, participants took part in service activities in Israel and Palestine, as well as engaging in dialogues with local university students. Each day began with a reflection about peace from different religious traditions. There were briefings from local peace groups, including OneVoice, Mepeace, and Education towards a Democratic Society.
The young people had an orientation and a guided tour of Jerusalem before going to Beer Sheva, in the south of Israel, for activities coordinated by The Forum of Lay Leadership. At the Gevim school the principal described how the school integrate immigrants into the larger culture. They visited classrooms, interacted with the students, and did restoration work around the town. They also met with Israeli students at Ben Gurion University and participated in a discussion led by their Hillel public relations director.
"Everyone has a story and everyone wants it to be heard," observed Chigo Ahunanya, "so it was an enlightening experience hearing their stories and views on the current affairs."
In the Palestinian city of Bethany (Azariya), participants learned about the social and political issues facing Bethany and how it affected the children there. Afterwards, one group stayed at the school and another went to a summer camp in a nearby city. Activities at the school included sports and arts, and gave the volunteers a chance to talk with the students about their life in Palestine. At the summer camp volunteers divided into music, education, and art groups. Students performed a piece from their play showcasing a traditional Muslim wedding.
At Al-Quds University they visited a science museum and experimented with their interactive activities. They then visited the Palestinian Prisoners Project. The exhibits included artwork created by the prisoners, memorials for prison martyrs, prisoners memoirs, and a short video.
A day in Tel Aviv included a visit to the NGO Save a Child's Heart. This organization brings children from places such as Zanzibar and Iraq to Israel for heart surgery in Israel. The parents or an elder accompanies them, and they live in a house with other kids with the same situation they play together before surgery and during their recovery. Together with the children and some volunteers from the Hillel institute at Tel Aviv University they cleaned the garden and planted some plants. They later joined the students from Hillel for a round-table discussion that highlighted points of view of the Israeli youth. The afternoon ended with sports and a picnic in a park.
"Language barriers made it difficult for Asians to participate in discussions," commented Joshua Lorenzana, but joint activities transcended words.
In Bethlehem, they toured holy sites and visited an orphanage, where they joined the children in moving bricks, clearing away garbage, and preparing space for a garden. Spontaneous dancing to traditional and pop Palestinian music built a sense of community among the young people.
Sheik Aziz Bukhari, an Ambassador for Peace living in Jerusalem, describe how his religious beliefs influence his ability to work with conflicting groups. "When working with someone who does not share your same beliefs," he advised, "it is important to let the person or party share their view completely. After that, we can share our own viewpoint and they will be more ready to listen." Secretary General of UPF-Israel Hod Ben Zvi explained Israel's history, the roots of the conflict, the role of religion in the Middle East, and the development of the Middle East Peace Initiative over the past five years.
In Julis, a Druze village in the north of Israel, they spent three days with Christians, Moslems and Druze youth leaders. Activities included painting a school yard with some international art, repairing a kindergarten, a football match with local youth, music, and cleaning a holy site in Kfar Yasif. A sheik invited them to his home for dinner, and they watch the final games of EURO2008 with a local family.
Reflecting on her work in organizing art activities and participating in round-table discussions with Israeli and Palestinian youth about peace, Natalie Nylen said, "I want to use the experiences I gained here to do something back home in Sweden."