| | |
| --- | --- |
| | The Words of the Cutts Family |
True Mother's visit to Atlanta
Tom Cutts
November 18, 2007
Twelve City USA Tour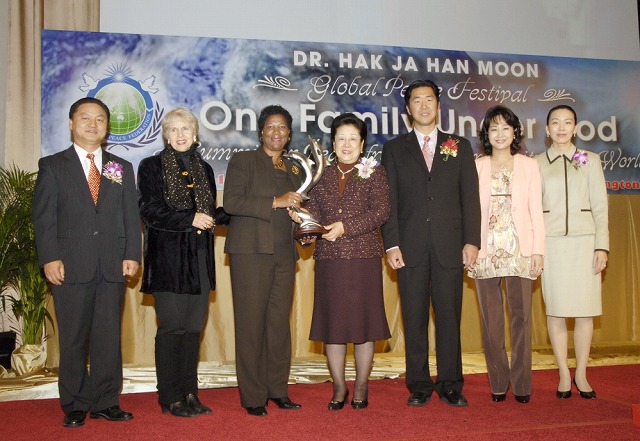 On Sunday afternoon, November 18th, True Mother was warmly welcomed to Atlanta by a host of dignitaries, including clergy, elected officials, professors and heads of service organizations. One sitting state senator was so impressed by the dignity and significance of the event that he turned to one of the organizers, a former state senator, and asked, "Why aren't more elected officials here at this incredible program?"
The event began with songs of praise led by the New Life Assembly Praise Team. Rev. Mark Abernathy and his wife, Edna Abernathy are pastors of New Life Assembly in Snellville, Georgia.
The Mistress of Ceremonies, the Honorable Steen Miles, did a wonderful job of making all feel welcome and prepared us for a "life changing experience." Ms. Miles is an associate minister at Greenforest Baptist Church in Decatur, Georgia and T.V. hostess of "Faith and the City Forum", a faith-based discussion of current events and public policy with guests of diverse faith traditions. She is also a former state senator, former candidate for Lieutenant Governor and former T.V. news reporter.
Senator Miles helped produce an extraordinary radio ad inviting people to the event. In the ad she told thousands of listeners that as a news reporter for Channel 11 news, she had formed a negative opinion of Rev. Moon, but after having met him, she found him to be a man of integrity and vision.
Greetings to all were extended by Commissioner A. Reginald Eaves, former Chairman of the Fulton County Commission, and former President of the National Association of County Commission Chairs.
An explanation of the Ambassadors for Peace initiative was delivered by the Reverend Dr. Gloria Ward Wright. She is an ordained Elder of the A.M.E. Zion Church, and a member of the Board of Directors of the Concerned Black Clergy, one of the most influential groups of pastors in Atlanta.
Rev. Tom Cutts, the Southeast District Director for the Family Federation for World Peace and Unification, and his wife, Mrs. Angelika Cutts, conducted the Holy Wine and Blessing Ceremony. Two couples, Pastor Mark Abernathy and Mrs. Edna Abernathy, and Elder Sammy Gilstrap and Mrs. Avis Gilstrap, came to the stage to represent all the couples in the audience.
Chief Apostle Willie R. Malcom offered the prayer of invocation. Earlier this summer, Apostle Malcom was elected the international head of his denomination, Triumph the Church and Kingdom of God in Christ. He is also one of the founding members of the American Clergy Leadership Conference of Georgia.
The Honorable Earl Hilliard, former Member of the U.S. House of Representatives, addressed the audience and spoke about the involvement of elected officials in the Universal Peace Federation, and the role they can play in establishing a world of peace. Congressman Hilliard had driven over to Atlanta from Birmingham, Alabama with his brother, John Hilliard. John Hilliard has also been a public servant, having served in the Alabama Senate.
We also had remarks from the Regional Chairman and National Chairman of the Universal Peace Federation. Dr. Michael W. Jenkins, National Chairman of UFP-USA spoke about the upcoming Global Peace Festival, and served as host for the remainder of the meeting. Dr. Chang Sik Yang, the Regional Chairman of UFP -- North America discussed the mission of the True Parents and their 33 years of investment in America.
Four evangelists joined True Mother and her son, Hyun Jin Moon, on the tour, and all four spoke at the Atlanta program. Bishop Jesse Edwards, the pastor of the Pentecostals of Pennsylvania explained the purpose of the twelve-city tour and announced the upcoming Global Peace Festival planned for Washington, D.C. in the August, 2008.
Archbishop Georgia Augustus Stallings spoke powerfully of the anointed mission of the True Parents. He was so excited that he jumped down off the stage, and began walking on the tops of the backrests of the first four or five rows of the chairs.
Bishop Riah Abu ("Father") El-Assal, an Anglican Bishop from Jerusalem, Israel spoke about the Universal Peace Federation, and concluded that the fastest road to peace in Iraq and Iran is through peace in Israel. Rev. James T. Herndon is a Seventh Day Adventist minister, who is serving as an Air Force Chaplain in Seoul, Korea. Chaplain Herndon, representing Christianity, led the interfaith prayer at the end of the program.
During the interfaith prayer, Minister Steven Muhammad of Atlanta represented the Islamic faith. Mr. Muhammad is a member of the Nation of Islam. He and his wife, Margaret were selected by the Honorable Minister Louis Farrakhan as Regional Representatives for the Million Family March. Together they mobilized 50 buses from Atlanta for that event in Washington, D.C. Mr. Moses Abramson, and his wife, Mrs. Luka Abramson, from Haifa, Israel, represented the Jewish faith. Mr. Abramson is the brother-in-law of the Honorable Sharon Beasley Teague Elnamala. The State Representative and her husband, Farajo Elnamala are members of the invitational committee for the Atlanta program. These representatives of the Abrahamic family of faith simultaneously lit a three foot long Unity Candle, and each offered a prayer for all families and for the family of man.
Featured entertainment during the event was Atlanta's own gospel giant, La Shun Pace. She is one of the famous Pace Sisters who are well known throughout the state.
After the video presentation, "One Family Under God", Dr. Preston Moon, came to introduce his mother. He was struck by the holy atmosphere and referred to the audience as "this congregation." He noticed the wonderful diversity of the attendees and remarked that "our diversity should never be used to divide but should be celebrated."
Mother Moon was radiant. The sister of Dr. H. G. McGhee, an ACLC pastor from New York, literally gasped when Mother Moon entered the stage. True Mother was perfectly dress, and Minster Steven Muhammad remarked that she represented the perfect world yet to come. When she began speaking, there was a hush in the audience, and all hung onto her every word. No one left the room until she had finished reading her speech. One State Senator had received several text messages during program, and when it was suggested that he might want to leave, he said, "No, that would be impolite. And furthermore, I don't want to miss a single word."
Flowers were presented to Mother Moon by Imam Furqan Muhammad, and to Dr. Preston Moon by Princess Julia Horton. Imam Muhammad is the Imam of the Masjid Al'Muminum in Atlanta, and Princess Horton is the Shepherdess of the Triumph the Church and Kingdom of God in Christ Church in Marietta, Georgia.
A gift from the American Clergy Leadership Conference of Georgia was presented to True Mother by the Honorable Donzella James, former state senator and candidate for U.S. Congress, and by Bishop Sharron White.
After the keynote address, eight dignitaries were presented a National Level Ambassador for Peace recognition. The eight were Minister Sharrieff Muhammad, the Southeast Regional Representative of the Nation of Islam; Mayor Lee Swaney, of Clarkston, Georgia; Dr. Subash Razdan, the Chairman of the Gandhi Foundation, USA; Mr. Sang Chul Park, Chairman of the Advisory Committee for the Federation of Korean Associations; the Honorable Emmanuel Jones, member of the Georgia Senate; Mr. Jean-Paul Samutu, the Founder and Director of Mizero ("Hope") Children of Rwanda, Africa; and the Venerable Khamla Xayasone, the Temple Master Wat Buddamoongeoon, in Riverdale, Georgia. A posthumous appointment was made to the Reverend John H. Cross. In 1964 he was the pastor of the 16th Street Baptist Church in Birmingham, Alabama. His was the pastor of the church that was bombed by racist bigots, killing four young girls. Instead of returning hate with hatred, Dr. Cross distinguished himself as the "Reconiliator" by trying to bring blacks and whites together. Rev. Cross went to his eternal reward on Thursday, November 15th, three days before the Atlanta event.
The program concluded in a celebration of music and dance. A troupe of young women dancers dressed in white, "Sista's in Action for Christ", performed a beautiful dance. They had come all the way from Athens, Georgia to perform. The King's Chapel A.M.E. Church Choir from Smyrna, Georgia performed two songs. The choir was directed by Pastor Larry Mack. La Shun Pace sang the concluding song.
Testimonies from Guests, Peace Summit, Nov. 18, 2007
Dr. Tanya Brown (Atlanta - Psychologist and Counselor)
"I was so impressed by Dr. Hyun Jin Moon. He has incredible language skills and he explained so well about Father Moon and Mother Moon."
Minister Steven Muhammad (Atlanta -- Regional Director, Million Family March, Nation of Islam)
"Last night Minister Sharrieff Muhammad, the Southeast Regional Representative of the Nation of Islam, came with nearly 100 of his people. We were all impressed by how elegant Mother Moon was. She was dressed perfectly with emerald earrings, and designer dress which perfectly matched the décor of the stage and banner. And she spoke with such dignity. I saw in Mother Moon the reflection of the perfect world that is to come. Mother Moon spoke so sincerely. When she began to speak, the whole room of nearly 1,000 people got quiet. Everyone was hanging on every word. Her words went into the listener's heart."
Chief Apostle Willie Roy Malcom (Atlanta -- Denominational Head of the Triumph the Church and Kingdom of God in Christ Church)
"I pray that God will let Rev. Moon live a long time. Father Moon, Mother Moon, and their children have suffered. I felt from Mother Moon's speech that she was asking "What can you do to help?" There is such passion in Rev. and Mrs. Moon. They have the kind of passion that prevents you from sleeping. Rev. Moon is so giving. And he gives without asking anything in return. Most people give and say, 'now you have to join me.' But that is not like Rev. Moon."
A current elected official from Georgia
"Wow. I am so glad I came to see Mrs. Moon and her son, Hyun Jin Moon. I had seen a lot of negative things on the internet, but came anyway because of Senate Donzella James and Senator Steen Miles. Why aren't more politicians here. We need to promote this project across the country. I want to personally meet with Dr. Moon. I have three car dealerships, and recently bought a Hyundai dealership. During the meeting I was receiving text messages on my blackberry. A couple of hot deals came up, and the person next to me suggested that I leave. But I couldn't. I wanted to stay and hear everything."
Bishop Shirley Wright Cotton (Atlanta -- pastor of the Pentecostal Church of God -- Fairburn Mission)
"My son and my secretary finally came to an event. I asked my son, Anthony, what he thought of Mrs. Moon and the event. He said, 'Mrs. Moon reminds me of you, Mom'. I told him, 'No, I am not that sweet.' He also said, 'I didn't know the meeting was going to be like that. It was wonderful. If something is spoken from the heart, it touches the heart. I felt Mrs. Moon.'"
Dr. H. G. McGhee, New York
"I got my blood sister to come to the Atlanta event. She had been so negative about Rev. Moon and the movement. In fact, when first called her, she said, 'Brother, if you keep moving with those Moon people, you are going to mess yourself up.' Then she hung up the phone, slamming it down. I called her back a little later, and finally, she agreed to come. She did come, and she brought a friend. My sister's reaction was to gasp. She couldn't believe how deep and of God this movement is. This taught me the lesson not let go, or ever give up on a person."