| | |
| --- | --- |
| | The Words of the Wilson Family |
No-One Does It Better… Than Alabama
Unja Wilson
November 2, 2008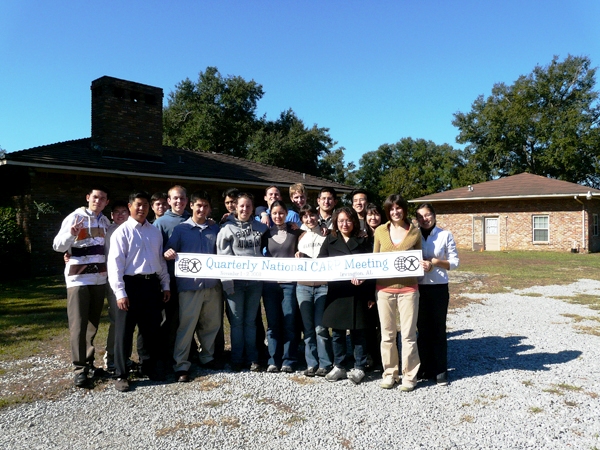 This year the CARP Autumn Quarterly meeting was held in the heart of the South where buttery pecan pies, homemade cookies, and perfectly fried chicken warmed the hearts and expanded the waistlines of the almost twenty CARP district representatives and CARP Headquarters staff in attendance.
Alabama district representative, Unja Wilson, and her CARP team organized the intense two-day meeting held from October 31st to November 2nd in historic South Garden. The meeting opened with a Halloween bash and bonfire with the entire Alabama college-age community.
The meeting officially kicked off the next day as each of the CARP chapters, stretching from New York to Los Angeles, gave reports about the exciting developments in their communities. "We're trying to instill as sense of responsibility in the CARP members; they have become the elder brothers and sisters of the community," stated Hero Hernandez, Texas representative, as he explained a mentoring program that Texas CARP had been pursuing that semester. B. Poland of Maryland CARP stressed the importance of a heart of service and increased communication, while Yoshi Hisano, the new representative of Utah CARP, focused on 'sticking to the basics,' and building a foundation based on the fundamentals.
The quarterly meeting was also a chance for CARP headquarters to set national goals and reemphasize the identity of CARP as an organization: "What does CARP do better than anyone else?" asked newly minted CARP president Kenshu Aoki. "CARP breaks down the boundaries that keep people apart." The meeting went late into the night as the representatives discussed how to effectively brand CARP across the United States. A standardized CARP orientation seminar and brand project dubbed "My Piece of Peace," which focuses on the role of art in peace making, are set to debut in the near future.
The meeting ended on a high note as the representatives reflected and discussed possibilities for the future. "It's challenging" said Leighton Degoede of Seattle CARP, "but it's really exciting!" Keiko Sometani of Chicago CARP agreed, "CARP is an exciting thing." Kenshu Aoki concluded the reflection and the meeting by saying, "That's why there's hope. CARP is where the theory and reality come closer together… I feel tremendous hope."