| | |
| --- | --- |
| | The Words of the Wilson Family |
World Professors' Lecture Tour of Korea and Japan
Andrew Wilson
October 1986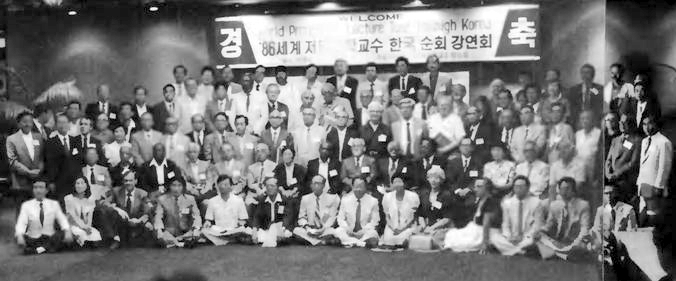 The Western and Japanese professors participating in the tour.
On the week of July 20, 1986, Korea experienced an unprecedented and historic event as 30 professors from America and Europe toured the country and testified to the vision and activities of Father. Together with 20 Japanese professors and 50 Korean professors, they spoke in over 200 cities, towns, and districts. The topic of their speeches was "The Future of the World and the Thought of Rev. Moon:'
At the opening banquet at the Sheraton Walker Hill Hotel in Seoul, Rev. Kwak spoke of the deep significance of this tour. He described Father's original desire "to transform Korea and then to have Korea serve the rest of the world: Korea was to have been the birthplace of God's ideal world and "a model for the rest of the world to follow." Unfortunately, Korea was slow to accept Father, and the Unification movement in its early years was burdened with persecution, so that the hoped-for "new cultural revolution" was not then realized. Instead, Father's work and vision prospered in countries outside of Korea.
This course is not unusual; it has been the experience of many religious founders. Jesus said, "A prophet is not without honor except in his own country" (Mat 13:57). Buddha, Confucius, and Mohammed likewise found more acceptance in distant regions than in their own homelands. The people in Jesus' hometown of Nazareth who knew him from childhood could not believe that a man who had been their neighbor could have such cosmic significance. Many Koreans have long held a similar attitude towards our Father.
Now these 30 Western professors and 20 Japanese professors, eminent scholars who are well acquainted with the activities and vision of the Unification movement, came to Korea to give testimony to a reality of which most Koreans were unaware. Most Korean have no idea of what Father has been doing throughout the world. Now they were to be educated by Western scholars about their own country's most valuable treasure.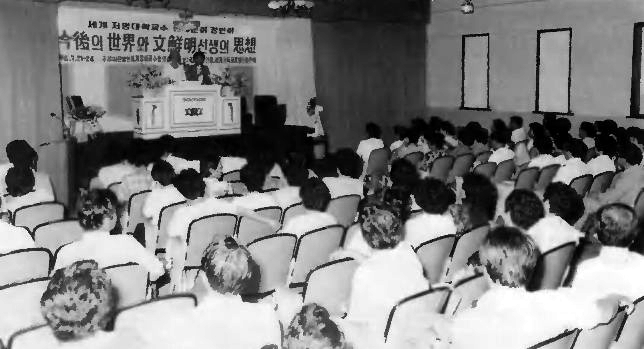 Mrs. Betty Rubenstein speaks in a suburb of Seoul.
Repaying a Debt to Father
Dr. Richard Rubenstein, Lawton Distinguished Professor of Religion at Florida State University, summed up the feelings of the Western professors at the opening banquet. "We all feel greatly indebted to the Reverend Moon for the many activities which have helped our professional and academic work. Now we have come to his homeland where we can repay some of our debt by helping him to find more acceptance:'
The professors divided into 51 teams, each with one Western or Japanese professor and one Korean professor who also served as a translator, and one member of Korean CARP who served as their guide. Then they dispersed in all directions to various cities throughout Korea. Each team spoke on four successive days, for a total of over 200 meetings in all. They spoke to audiences ranging from 70 to 250 people who mostly came from the grass roots of Korean society: school teachers, local civic leaders, merchants, workers, and farmers. The professors were faced with the task of simplifying their occasionally abstruse academic ideas into words that could be easily understood by the ordinary person. They rose to the occasion, and in return they received a precious glimpse of something that cannot be learned in any classroom or discovered by an ordinary tourist -- the Korean heart.
The Korean people who attended the lectures were quite impressed to see a distinguished professor from America or Europe speaking high praises about Rev. Moon and his movement. Even the church members and IFVOC members in attendance were amazed at the breadth and extent of his activities to which the professors gave testimony. In this way, the Korea people could understand that Father is not just a controversial leader on the Korean religious scene, but a man with worldwide significance.
The professors spoke about the areas of Father's work with which they were most familiar. For some it was his activities against communism through CAUSA and The Washington Times; for some it was his vision for the unity of science and values through ICUS; and for others it was his work for religious ecumenism and harmony through New ERA, the Assembly of the World's Religions, and other activities of IRF.
These professors have a broad perspective on the world's current intellectual, social, and political trends. When they analyze the thought and the activities of Father they often recognize his significance and importance to a degree far beyond what those of us who are working inside the church can usually see. In their speeches they testified to ways that the Unification movement is truly making a substantial difference in the direction of world history.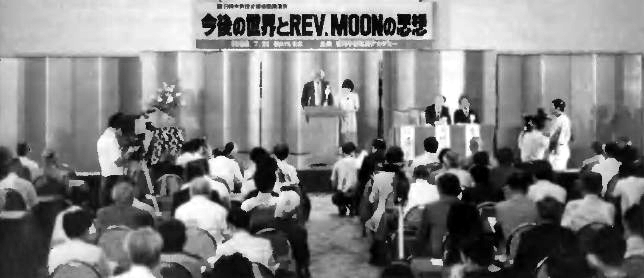 Dr. Osborne Scott speaks in Japan.
The Larger Significance
All of us need to be reminded about the larger significance of the movement to which we each contribute; we get so wrapped up in the struggles of our particular responsibility that we may lose any sense of the larger impact of what Father and we as members are collectively accomplishing.
After their speaking tours had ended and the professors had re- gathered in Seoul, each was presented with a hand-tailored suit, a gift of appreciation from Father. Everyone had a chance to go sightseeing in their local areas or in Seoul. They deeply appreciated the chance to become so intimately acquainted with the Korean people and culture, and were moved by the warm hospitality they received.
Twenty-four of the Western professors continued on to Tokyo for a second tour of speeches throughout Japan from July 27 to August 1. In Japan, each of them teamed up with one Korean and one Japanese professor and embarked on a lecture tour that covered every prefecture in Japan. Most of the teams spoke in two locations, so there were 50 meetings in all. This author also had the opportunity to speak as a professor from the Unification Theological Seminary.
In Japan, our audiences included university presidents, civic leaders, and many politicians: mayors, members of the Diet, and leaders of the ruling Liberal Democratic Party (LDP). Telegrams from national leaders from, Prime Minister Nakasone on down, were read at every meeting. Through this professors' tour there was an opportunity to educate members of parliament about the vision and purpose of our movement.
We found these politicians surprisingly open to consider seriously the ideas and vision that the Unification movement represents. Japan is a young democracy, unsure of its role as a world power, and hence its leaders are still searching for what Japan's purpose should be in the world. At these meetings, the politicians could share with professors from the West and from Korea, two areas where Japan has historically encountered friction and conflict. They asked thoughtful questions and listened attentively. The recent rise to prominence of our movement in Japan may yet contribute to a new national vision for Japan, one that is aware of the nation's providential purpose.
The World Professors' Lecture Tour of Korea and Japan was jointly sponsored by the Advisory Council to the Unification Movement International (ACUMI) in the West, PWPA and ICPA in Korea, and PWPA in Japan. More such tours are expected in the years ahead.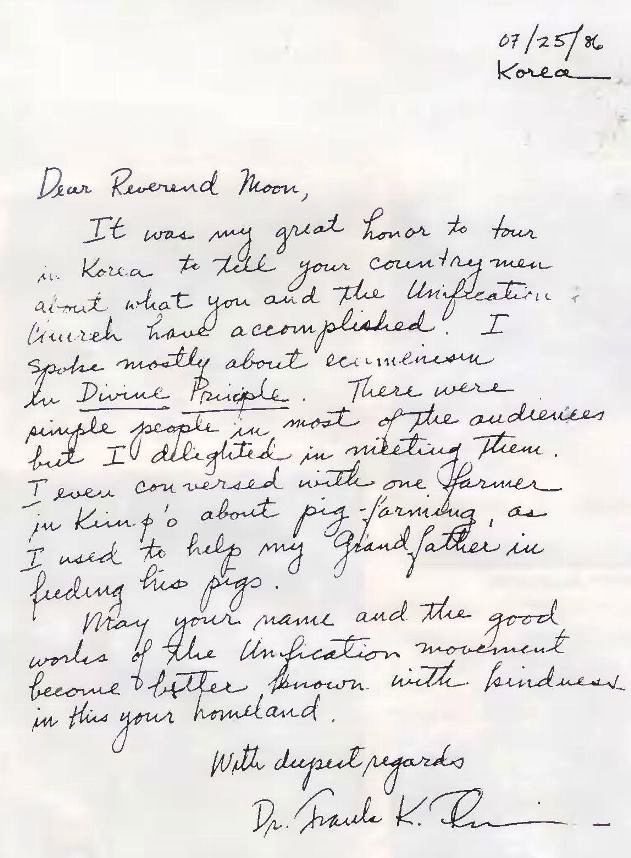 Excerpts from the Professors' Testimonies
...You might recall that Shaw Divinity School was the first mainline institution of any kind in the United States to honor Rev. Moon. We awarded him an Honorary Doctor of Divinity degree while he was still incarcerated in Danbury Prison. We did this against all odds and pressures by a significant segment of the religious community in the United States and the world.... Many people predicted that the awarding of the degree would be the end of Shaw Divinity School, and that we would be forced to close our doors before December of 1985, I am pleased to say to you today that God has blessed our effort. I know now, as I did then, that our honoring Rev. Moon was God- oriented and God-directed. Last year, Shaw Divinity School had the best year since its founding. Our enrollment was the highest ever. We raised more money and spent more money than at any other time in its history.... I could go on and on in witnessing to the goodness of God and His blessings that are ours, which we relate almost wholly to our relationship to the Unification movement. Of course, we give God the glory!
Dr. Joseph C. Paige
Executive Vice President
Shaw Divinity School
...There is no other living religious leader, east or west, who has done so much in the contemporary world to envision a new reality beyond the present political and religious dilemmas; no other religious leader who has done so much to bring East and West together; no other religious leader who has worked so hard to build real organizations and institutions for social change; and no other religious leader who has devoted so much divinely inspired energy to the pursuit of worldwide peace and harmony.
Joseph Bettis
Professor of Religious Studies
Western Washington University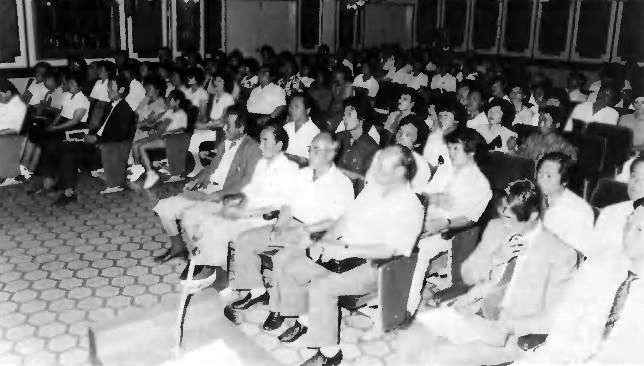 A Korean audience listens to one of the professor's speeches.
..Now this organization is not a mere view of the mind anymore. Thanks to the Rev. Moon and his associates, we have seen in the last decade the emergence of a [new] culture.... Its success across lands and continents is due only to a few causes. I name first its centering on God without whose help edifices crumble. The second cause is the recognition that people have had enough of secularistic, utopian, corruptive ideologies and seek the positive word. The third is the multi-level character of this counter-, network, reaching from daily newspapers to the highest degrees of knowledge. It is in this most-needed culture network that I see the Rev. Moon's achievement, one that makes him such a notable figure of this last quarter of the century.
Dr. Thomas Molnar
Humanities Department
City University of New York