INTERRELIGIOUS WORK: THE MOST EFFECTIVE WAY TO BRING ABOUT PEACE AND HUMAN BETTERMENT IN TODAY'S WORLD

In His Words:
Fighting between Religions: God's Headache: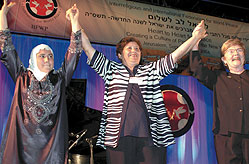 "How about God's headache--the division and disunity within Christianity and between the world religions? For God, religious people are the conscience of the world. Religious people have the tradition, values and practical power to overcome evil and educate the world about the true way of life. From the earliest days of the Unification movement I devoted the greatest portion of our resources to serving other religions. In the 1950s, when many Unification families did not have enough to eat, I devoted funds to the cause of interreligious harmony. I suffered for their hardships and begged for their patience for the sake of mankind's future."
- Rev. Sun Myung Moon

A central tenet of Reverend Moon's work is that peace and human betterment will be most effectively achieved today through interreligious work--the close, cooperative work of religious leaders of different religions and denominations working together. Just as today's world is at war primarily because of religious strife, today's world can be largely cured of its ills, through the opposite--religious cooperation.

After 9/11, because of Unificationism's long history of interreligious work, organizations founded by Reverend Moon had the experience and connections to reach out to the Islamic world at a time of crisis. IIFWP organized an interreligious conference in October 2001 in New York, barely a month ofter 9/11 and then sponsored another groundbreaking conference for Muslim leaders only in Indonesia in December 2001 entitled "Islam and the Future World of Peace."

From his earliest times, Reverend Moon recognized the importance of and invested in interreligious dialogue and cooperation for a future world of peace. In fact, he spent more money on interreligious activities than on his own faith community. Reverend Moon knew that interreligious understanding and cooperation would be the most effective means to bring about a world of peace in the future.


Interreligious Cooperation and Dialogue:
In His Words
: "Now is the time when all the world's religions should keenly feel central responsibility for the realization of world peace. The future happiness of mankind cannot be achieved through economic prosperity alone, but only by overcoming conflicts between ideologies, cultures and races through interreligious understanding and spiritual harmony."
ASSEMBLY OF THE WORLD'S RELIGIONS
Inaugurated in 1985, the first Assembly of the World's Religions was held in McAfee, New Jersey. This gathering drew about 1000 religious leaders and scholars representing faith traditions from around the world. Subsequent assemblies took place in 1990 and 1992.


NEW ECUMENICAL RESEARCH ASSOCIATION
Founded in 1979 to promote dialogue and understanding between Unificationists and traditional Christian churches, the New Ecumenical Research Association sponsored numerous seminars and publications in the 1970's and 1980's.


UNIFICATION THEOLOGICAL SEMINARY INTERRELIGIOUS PROGRAMS
Founded in 1975, this seminary in New York state trains leaders of the Unification movement. It models interreligious understanding and dialogue through mandatory courses in the study of other religions and by sponsoring seminars and dialogues among leaders of Christianity and other religions.
www.uts.edu



INTERRELIGIOUS AND INTERNATIONAL FEDERATION FOR WORLD PEACE
Founded in 1999, the Interreligious and International Federation for World Peace works with religious persons and organizations to promote peace especially in emergency situations and resolving international conflicts. Projects have included dialogues and seminars in hot spots such as Northern Ireland, Bosnia, South Africa and Nepal.
www.iifwp.org



COUNCIL FOR THE WORLD'S RELIGIONS
The Council for the World's Religions was established in 1984 to work with religious leaders on issues relating to conflict and peace.


MIDDLE EAST PEACE INITIATIVE (MEPI)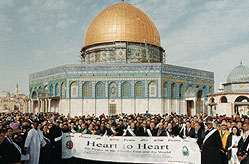 Founded in 2003, the Middle East Peace Initiative is based on Reverend Moon's vision that problems of the Middle East will ultimately be solved by religious leaders--the leaders of Christianity, Judaism and Islam working together, rather than political leadership alone. To bring reconciliation between the three Abrahamic faiths, Judaism, Christianity and Islam, MEPI organizes pilgrimages, dialogues and peace rallies in the Holy Land. MEPI has brought 10,000 religious, civic and political leaders from six continents on peace pilgrimages to Israel, Palestine, Jordan and Lebanon. Participants meet with both Arab and Jewish religious and government leaders to understand firsthand the Middle East crisis and to work to bring about reconciliation. Non-violent methods of resolving injustices are promoted. Religious leaders, including veterans of Rev. Martin Luther King's non-violent civil rights movement, serve as mentors on the effectiveness of the non-violent approaches to resolving injustices.
www.peacefederation.org


RELIGIOUS YOUTH SERVICE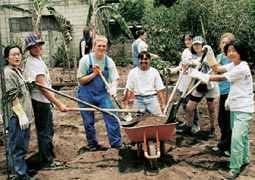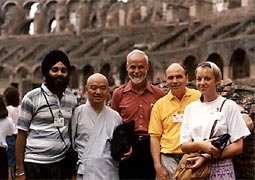 Youth from the world's different religions work and live together carrying out a social service project, putting into practice Reverend Moon's vision of solving social problems through interreligious cooperation. Since its founding in 1985, Religious Youth Service has carried out 151 projects in 51 nations. Up to 100 young people from different religions work together for one or more weeks on activities such as building schools, latrines and clinics; restoring religious shrines; painting murals, etc. In 2006 there were projects in Malaysia, Ghana, China, Guatemala, Estonia, Indonesia, Jamaica, Mongolia, Palau and Zambia.
www.religiousyouthservice.org


WORLD SCRIPTURE - A COMPARATIVE ANTHOLOGY OF SACRED TEXTS
In His Words: "Through this text all people will recognize shared values and a universal foundation which are of greater significance than the differences which have historically divided religions." - Rev. Sun Myung Moon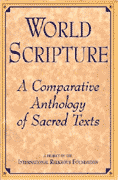 To deepen mutual appreciation between the world's religions, the International Religious Foundation sponsored the research and writing of the book World Scripture – A Comparative Anthology of Sacred Texts. This remarkable book compares scriptural passages from the world's religions on several hundred themes. World Scripture demonstrates the amazing affinity of beliefs that religions share. It is widely available in book stores and has fast become a primer for comparative religion studies. The advisory board for the book was composed of 41 scholars from the various religions. Dr. Ninian Smart, professor of comparative religions at the University of California at Santa Barbara, wrote the Preface.

World Scriptures is widely used as a text for comparative religion classes. You can purchase World Scriptures on Amazon.com.

International Coalition for Religious Freedom (ICRF)
A non-sectarian, educational organization dedicated realizing the vision of religious freedom found in Article 18 of the UN's Universal Declaration of Human Rights which reads: Everyone has the right to freedom of thought, conscience and religion; this right includes freedom to change his religion or belief, and freedom, alone or in community with others, and, in public or private, to manifest his religion or belief in teaching, practice, worship and observance.
tp://www.religiousfreedom.com/" target=_blank>www.religiousfreedom.com



Top of the page